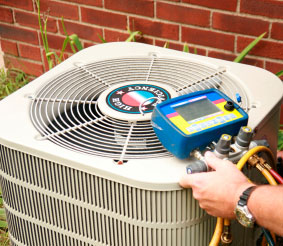 At Action Heating and Air Conditioning we are often questioned about our warranty.  All new air conditioning units come with a manufacturer warranty. The length of the warranty varies from manufacturer to manufacturer, usually ranging from 5 to 15 years, while 10 years is the most common. The big difference is what the local air conditioner contractor offers in his warranty.
While having a warranty on your air conditioning unit is a great protection against manufacturing defects, one shouldn't choose a brand based only on the length of the warranty offered as it does not necessarily depict the reliability of the brand.
Warranty is often used by air conditioning manufacturers as a marketing tool, where a longer warranty period is offered to boost sales or attract customers to buy a particular system. Therefore, it is always best to rely on the expertise and advice of a trusted air conditioning contractor when it comes to the selection of the best brand for your air conditioning needs.
Quality Air Conditioning contractors have experience dealing with hundreds of models from dozens of air conditioning brands and will know which brand/unit will be best for your situation.
We at Action Heating and Air Conditioning have been providing air conditioning system installation in the Mobile and Baldwin County areas since 1996. With experience installing and working on thousands of air conditioning system, our team has the experience needed to recommend the proper brand and model of air conditioning system for your home or business.
Whether it be to have a new HVAC system installed in your home or office, to having any repair work completed, or to having a piece of mind maintenance plan in place, we at Action Heating and Air Conditioning can handle all your HVAC system needs at an affordable price. Please call us at 251 272-5900 or visit our website at www.callaction.net to set up an appoi