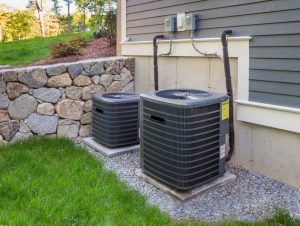 We at Action Heating and Air Conditioning know that the summer is close by and air conditioning problems can occur without a moment's notice. We thought it would be a good time to help educate you our customers on some terms that you make want to be familiar with when your air conditioner needs repairs
Air Diffuser
Air distribution outlet or grill designed to direct and develop balanced airstreams
Bubble Point
The pressure at which a refrigerant liquid starts to vaporise.
Coil
Component providing heat transfer to air when mounted inside an air handling unit or ductwork. The term is normally associated with a fin and tube heat exchanger using refrigerant or water as the heat transfer medium.
Compressor
A key component of the refrigeration system, raising the pressure (and hence temperature) of the refrigerant and circulating it through a closed loop system.
Density
The weight of a unit volume of a substance
Duct
Ducts are used in heating, ventilation, and air conditioning (HVAC) to deliver and remove air including supply air, return air, and exhaust air.
ESEER
As with EER, the Seasonal Energy Efficiency Ratio is a measure of equipment energy efficiency, but defined to suit the Europe market. Rather than using a single condition (EER) the SEER assumes four seasonal conditions for variable load performance of chillers, etc. and provides a suitable rating number for the equipment.
Evaporator Coil
An evaporator coil is usually located indoors as part of a split unit or within an air handler or duct system. Inside the coil, refrigerant evaporates as it absorbs heat from the air that passes over it.
Inverter Compressor
This type of compressor uses an inverter drive to control the compressor motor speed to modulate capacity as demand varies.
Refrigerant
The fluid used for the heat transfer within a refrigeration system. The refrigerant absorbs heat at low temperature and pressure and transfers heat at high temperature and pressure. The refrigerant can be many materials, commonly fluorocarbon compounds, but also natural refrigerants such as ammonia, CO2, hydrocarbons as well as other compounds such as water and air.
RCI (HI) and RCI ( LO)
The Rack Cooling Index (RCI) is a metric that measures the percentage of racks in the data centre where the air inlet temperature is at the recommended or allowable level under the guidelines put forth by ASHRAE. RCI (hi) is the metric for racks at the upper limit and RCI (lo) for racks at the lower limit. This metric reveals how uniformly and efficiently a data centre is being cooled.
Split System
A split air conditioning system consists of two main parts: the outdoor (condensing) unit and the indoor unit. Although any size of unit could be defined as a split system it normally refers to smaller equipment, specifically air to air heat pumps.
Thermostatic expansion valve (TEV)
A precision control device, designed to control the evaporator superheat by regulating the rate at which liquid refrigerant flows into the evaporator.
We at Action Heating and Air Conditioning have been serving Mobile and Baldwin Counties since 1997. Please give us a call at 251-272-5900 when your need affordable air conditioning repairs performed by a trained HVASC specialist or when a new air conditioning unit is the needed solution. We have some great specials to help save on a new unit as well as great financing options.