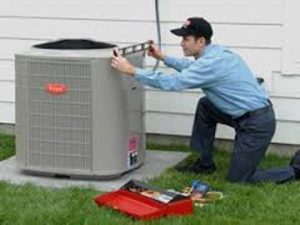 It is generally a good idea to consider doing some basic air conditioning maintenance on your air conditioning at the beginning of every cooling season. Harsh winters, such as when the "polar vortex" gets going, are especially tough on outdoor equipment. These ultra-low negative temperature spikes, along with the extended times below freezing, can affect your home air conditioning system's spring start up. But with a few checks and a little effort, you can help to insure a trouble-free summer cooling season.
Here are 7 important things to check before switching the thermostat to cooling
Inspect the outdoor Unit
Remove any condenser covers, coil blankets, or lids
Repair or replace any damaged pipe insulation
Remove any debris from the outdoor coil
Change the air filters
Check the coil drainage hose
Clean the supply vents and return
These steps for your air conditioning maintenace can be performed by you the homeowner. However, to ensure that your air conditioning unit is working efficiently, it would be a good idea to have a HVAC professional complete an air conditioning maintenance check. They will insure that your units are running efficiently and by maintaining them properly help reduce costly repairs.
We at Action Heating and air Conditioning have been helping families in Mobile and Baldwin County since 1997 with all their HVAC needs. We offer affordable maintenance programs to meet your budget. We complete heating and cooling repairs as well as sell and install new units.
Please check our website at www.callaction.net to meet our team, view the services we offer. You also can find some attractive financing arrangements on new units and are season promotions. Also, Bryant also offers Spring Bonus Bucks for new Bryant Units that we at Action Heating and Air Conditioning pass on to our customers