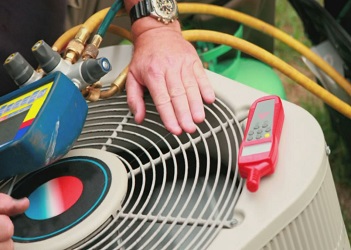 How proper air conditioning service can help you
Air conditioning is considered a necessity more than a luxury in many parts of the world. It isn't always easy to keep indoor spaces cooled, and we need to respect the equipment that does this job for us. An air conditioning service from Action Heating & Air Conditioning is the best way for you to get the most out of your air conditioner along with sensible temperature choices.
Here are a few tips for proper air conditioning service:
One quick task which doesn't require any specialized experts is verifying the air conditioner is pulling air in properly. Check the condenser and fans for any obstructions. Try and keep the area around your air conditioner free of clutter.
Clearing external obstruction also may include plants. You may not see a threat in some grass poking through the condenser, but a few weeks' growth can turn this into a huge problem. Trim back the vegetation from the area and try not to plant any shrubs or trees close to your unit.
You should protect your air conditioner from intrusion from animals.  Air conditioners make a tempting den for a number of creatures. But this is a dangerous combination. Make sure the grilles and covers on your unit are secure. Have any holes patched up during air conditioning service.
You should clean AC intakes with bleach. This needs to be done every three months. It will prevent mold from growing and get rid of any potential clogs or unpleasant odors.
Before late spring arrives, turn on your AC and make sure it is cooling and that there are no unusual sounds. Catching potential problems early on and dealing with them during air conditioning service is the most cost-effective way of ensuring you don't have major problems later on.
Remember in the Mobile & Baldwin Counties area, you can always count on Action Heating & Air Conditioning for all your service needs. We have expert technicians and we offer affordable pricing. Visit our website at www.callaction.net to learn more about us.