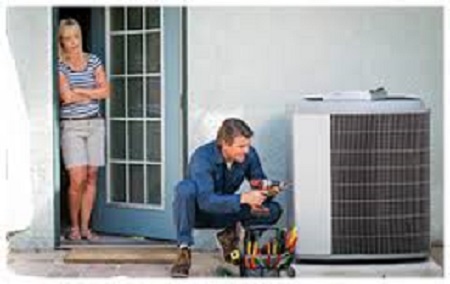 Air Conditioning Mistakes
In the summer your air conditioner uses the majority of your energy consumption. 70% of your electric bill can be contributed to your air conditioner.
There are some ways that you can reduce this load by changing some of your air conditioning habits.
Below are the biggest mistakes we make.
Placing the Outside Unit in a Hot spot—You should place your unit in a shady spot on the east or north side of your home, where it will receive less direct sunlight.
Hiding the Air Conditioner– Don't hide your outside unit behind shrubs or other plants. This will hinder ventilation, clog condenser coils and make the air conditioner run less efficiently.
Buying Bigger is Not Always Best– an oversized air conditioner will not generate uniform temperatures or reduce humidity. It will also run inefficiently by cycling on and off quickly. Remember that too small may not cool the space properly. You can use the Consumer Reports worksheet for properly sizing a new unit.
Ignoring Maintenance– You should clean or replace filters at least every2 months. Your evaporator coil needs to be checks and cleaned once a year.
Leaving the Air Conditioner Running All Day- Programmable thermostats can help you conserve energy by not having the unit running at lower temperatures when you are not at home.
Turning the Temperature Way Down. If you are comfortable at a certain temperature, don't come home and lower it way down, it will not get to your comfort level any faster.
Heating Up the Thermostat– make sure your thermostat is not too close to lamps, TVs, stereos, etc. that could generate heat to accidently drive up the temperature.
Not Utilizing Ceiling Fans Properly– Your air conditioner should work in tandem to your ceiling fan. Make sure the fan is switched to push air downward (typically counter clockwise)
Using the wrong Fans-Exhaust fans in the kitchen or bathrooms can push cool air out of the house.
Closing Unused Vents– in many cases this can decrease the efficiency of your unit. Don't close off rooms that have thermostats in them.
We at Action Heating and Air Conditioning hope that these tips can help you save on your energy bills. Remember when shopping for a new air conditioning unit, needing repairs on your existing unit, or looking for an affordable maintenance program, we at Action Heating and Air Conditioning can service all your needs. We have been in the Heating and Air Conditioning business since 1997 with well trained professional technicians.
Please visit our website at www.callaction.net to meet our team and review all our services. Please be sure and check out our money saving discounts and coupons while you are there.